LS One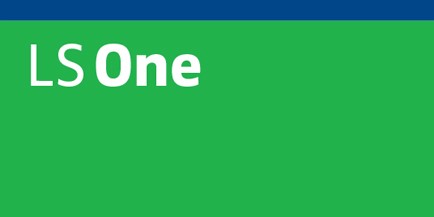 The LS One suite is truly the One business management software solution for your business
Whether you are a small standalone retailer or have chain of stores or restaurants LS One is a dynamic POS solution that is tailored to grow with your business. No matter if you are in the fashion, food or restaurant business LS Retail understands your needs and provides tools for managing your business.
Although LS One is a solution that can serve a wide variety of businesses regarding their type and size and can help you with issues normally dealt with by the big ERP systems, it is very easy to configure and you can train your staff in minutes. For those who need all the functionality of an ERP system LS One can be integrated with systems such Microsoft Dynamics NAV, SAP and 1C


Are you looking for a complete solution but quick and easy to implement?

LS One business management system fits any kind of business, small or large, food-service or fashion and so much more. It includes a complete platform and all for one price. If that wasn't enough, the LS One solution can be set up within 30 minutes with a configuration tool for a database.
Comprehensive default data can then be inserted to give you a basis for customization and help you navigate and teach yourself how to use the Site Manager and POS. The POS layouts, styles and button operations can be customized down to each terminal or staff member's needs and permissions. Setting up a store has never been more comprehensive or faster!
Are you finding it hard to manage and control your shop or restaurant?
Included in the LS One suite is an easy to use back office system called Site Manager, which gives you all the basic features that you need in order to run your business effortlessly. From it you can control easily your data such as items, prices and customers, as well as the settings for all your store or restaurant's locations and their terminals.
LS One's powerful reporting functionality will help you to interpret and understand your data so you can easily plan your business future. Whether you need reports on top best sold items, customer transactions, sales per hour/staff/customer or more, LS One is your solution and it's so highly intuitive that it will allow you to create customized reports can be added without any programming skills.
How much money are you losing while your customers are waiting?
The LS One POS improves your efficiency by helping the sales staff being quicker and more accurate in handling the daily transactions. You can easily use barcodes, as well as selling with the touch of a button or search quickly items by names or images. The POS also automatically calculates offers, promotion prices and customer specific prices. You can accept multiple payment types such as cash, cards or foreign currency. Finally the POS layout can be customized according to your needs to make it even easier for your staff to find exactly what they need.

Are you running out of stock when you least expect it?
LS One gives you a complete overview of your stock level and purchase orders. No matter if you are located at a specific store or at the head office, you or your staff can check the availability of a certain item and easily arrange for additional items to be dispatched according to your needs. LS One can even help you calculate what items and in what quantity need to be ordered ahead of time.

Are your customers motivated to come back?
Have you ever wondered about setting up a loyalty program for your customers, but then dismissed it thinking it's too complicated? Worry no more. With LS One you can reach out to your customers and tempt them to come back again and again through automatically calculated discounts and promotions, such as 2 for 1, deal price and multibuy discounts, which you can set up easily and effortlessly. These offers can even be personalized for each customer.
Do you have online/offline connectivity problems?
The LS One POS can run offline on a local database; this is very useful as it is not affected by network or back-office server downtime. When you have a POS that needs to be running all of the time, this can save you from losing business. When running offline the LS One Site Service enables the POS to retrieve or update centralized data such as information on gift cards, credit memos and suspended transactions. This gives the POS the resilience of a standalone mode as well as the data availability of an online POS. Then the Data DirectorData replication takes care of providing the terminals with new settings and items setup in the back-office and the back-office with the transaction information from the terminals.
Do you own a restaurant or food service business?
With LS One in your restaurant you can increase your service speed by entering the orders and automatically print them in the Kitchen. LS One includes functionality for your restaurant such as table management and possibility to split the bill which helps your staff deliver superior customer service.